Respected Business Partners,
Dear Colleagues,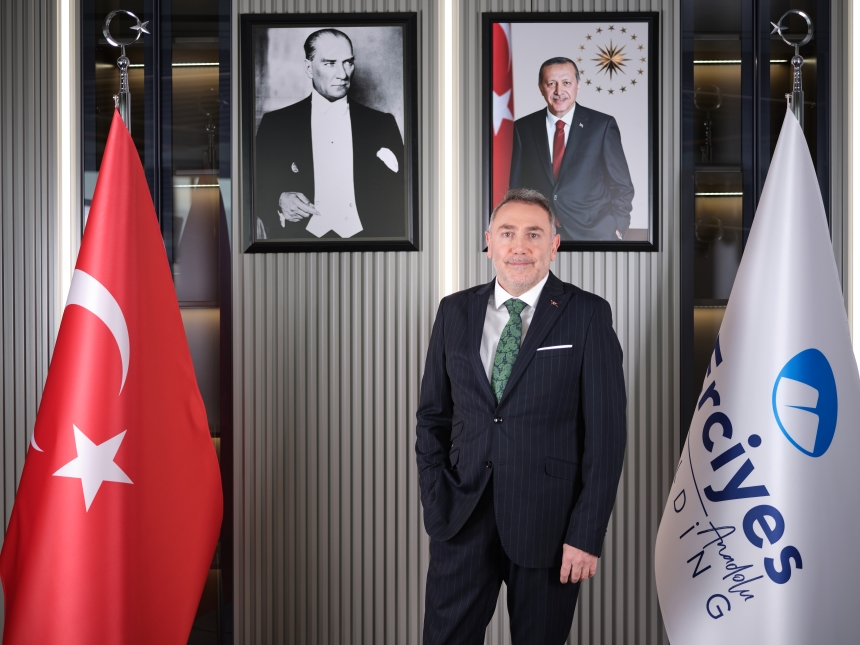 As Erciyes Anadolu Holding, we are among the leading industrial groups in Turkey with 30 companies operating in 8 sectors, each with well-known and leading brands worldwide. With our production capacity, we operate in a wide range of sectors from textiles to furniture, from iron and steel to energy, and have a global impact spanning across 5 continents.

Looking at the results of the growth and profit increase we achieved in the past period, we see that our group achieved a 391.5% growth in combined operating profit and a 341.9% increase in net profit on a combined basis for the years 2016-2022. We also successfully concluded the year 2022, with Erciyes Anadolu Holding's revenue reaching 37.3 billion TL, representing a 78.6% increase compared to 20.9 billion TL in 2021.

In the coming period, our goal is to further strengthen our national and international distribution network and intensify our efforts to have a world-class operation through innovative solutions and technology integration. Our aim is to become the creator of leading global brands and further strengthen our pioneering position in the sectors we operate in.

In addition to the financial initiatives we initiated in 2019, we have taken significant steps in our textile and furniture companies to establish sustainable management strategies. We have added Gümüşsuyu Halı, one of Turkey's most valuable carpet brands, to our portfolio and repositioned our Mondihome brand to advance our domestic and international goals. Similarly, we have transformed our Boyteks brand into one of the leading organizations in the global textile sector, ensuring growth in various textile fields. In home textiles, we have introduced our Doqu Home brand to the satisfaction of consumers. With these investments, we add value to our country and increase our competitiveness.

As Erciyes Anadolu Holding, we continue our activities with a vision that constantly focuses on innovation and advanced technologies. Throughout 2022, we have realized many successful projects and accelerated our investments for the future.

In 2022, we continued our investments by allocating a total of 39.4 billion TL and made an investment of 58.4 million TL for our R&D activities. In this way, we continue to bring innovative and technological advancements in the sectors we operate in.

As RHG EnerTürk Enerji, we have continued to contribute to renewable energy investments in Turkey in 2022 and inaugurated the Van Arısu Solar Power Plant (GES) in the Tuşba district of Van. This plant, located on an area of 784,000 square meters, utilizes Nextracker smart solar tracking technology and has a capacity to meet the energy needs of more than 44,000 households with 138,213 monocrystalline module type solar panels.

As a company, we have renewable energy power plants recognized nationwide in hydroelectric, wind, and solar energy fields with a total installed capacity of 534 MW. In 2022, we further increased our visibility through the signing ceremony held at Kayserispor Stadium, where we became the name sponsor of RHG Enertürk Energy Stadium. In the coming period, we aim to increase our installed capacity to 849 MW and we are also among the first companies to obtain the Electric Vehicle Charging Network Operation license in Turkey.

Following the earthquake disaster that occurred on February 6, 2023, centered in Kahramanmaraş and affecting 11 provinces, we swiftly took action. In coordination with the Turkish Red Crescent and Disaster and Emergency Management Authority (AFAD), we extended a helping hand to the earthquake victims. We sent food, water, clothing, and other aid materials to the affected area. We provided logistics for medicine to leukemia patients and delivered necessary items such as blankets, beds, mattresses, and pillows to the region. We dispatched portable toilets, minibusses, and forklifts to the earthquake zone. Additionally, we provided meal services to 3,000 people daily with a dedicated team and a mobile kitchen based in Kahramanmaraş. We made cash donations to assist the earthquake victims and initiated a relief campaign with our international subsidiaries. With all these efforts, we continue to support the earthquake victims.

As Erciyes Anadolu Holding, we are aware of our significant responsibility towards our country and with this sense of responsibility, we aim for a sustainable future through Social Responsibility Projects we carry out at regional and national levels in the fields of society, education, sports, and healthcare. With our knowledge, skills, industrial infrastructure, technological power, and most importantly, our human resources, we will continue to work for and stand by our country, Turkey.
Assoc. Prof. Alpaslan Baki Ertekin
Erciyes Anadolu Holding
Board Member - CEO